Jack Canfield's Books, Free Programs & Training
These free webinars and books by bestselling author, Jack Canfield, will transform your attitude and your life as you dive into 2021 with renewed energy, purpose, and motivation.
Jack Canfield is the author and co-author of more than 150 books (including 66 bestsellers) with more than 100 million copies in print in 47 languages around the world and he holds the Guinness World Record for having the greatest number of books on the New York Times bestseller list at the same time.
Enjoy these free programs and books from bestselling author, Jack Canfield, the beloved originator of the Chicken Soup For The Soul® series. He is also an award-winning speaker and an internationally recognized leader in personal development and peak performance strategies.
Free eBooks By Jack Canfield
No matter what kind of detour 2020 has taken you on, now is the perfect time to recommit to your goals and renew your dedication to creating a life you truly love. Jack Canfield's new book, Reignite Your Dreams is a FREE end-of-year gift that will make it easy for you to do just that!
Join Jack for a 3-day "Mental Reset" experience that will help you liberate yourself from distraction, create a positive, success-focused mindset, and re-focus your energy on creating your best life in 2021!
Download Jack's free "Reignite Your Dreams" eBook that helps you reclaim your power and regain the confidence, optimism, focus, and drive you to need to fully live your purpose in 2021. This free guide walks you through the process of:
Reclaiming your personal power
Recalibrating your mindset
Refuelling your vision
Regaining 100% control over your life and results
Remembering who you are and what you're capable of accomplishing
Gaining powerful insight into your purpose and passions
Experiencing more joy in everything you do
… so that you're able to dive into 2021 with renewed energy, purpose, and motivation for making your dreams a reality. It's the perfect way to end this year on a high note and kick off the New Year with the clarity, enthusiasm, and unstoppable drive you need to achieve your most ambitious goals!
And when you download the guide, you'll get a Free Ticket to Jack's upcoming 2021 Free Visioning Webinar, How to Design Your Dream Life, on December 9th! Until then, watch this powerful Jack Canfield vision board video and create your own vision board to activate the Law of Attraction.
Learn how to create lasting positive change in the lives of the people you teach. Use Jack Canfield's proven methodology to inspire and transform others (and make a handsome living doing it).
Go beyond just "motivation" and take yourself and others to newfound levels of self-awareness. Discover how to create transformational experiences in others and empower them to break through their barriers.
Download the Free PDF – 7 Steps to Become a Transformational Trainer
Discover the Power of Positivity With Your FREE Guide For Everyday Positive Thinking! Refer to this guide to help reclaim your happiness any time you're feeling stress, have low self-esteem, need motivation, experience fear, or when any negative scenario arises
Discover quick tips to help you remain calm in-the-moment, and effective exercises to add to your daily routine for more successful results
Reach your goals and dreams with ease by changing your outlook about past hurts, present stress, anger, anxiety, or worries
Attract positivity, wealth, and abundance while lifting your spirits through daily affirmations, support, goal setting, prioritizing, and more
Learn How to Overcome Negative Thoughts and Feelings
Free Webinars By Jack Canfield
Learn How to Set and Accomplish Big Goals That are in Alignment with the Life You Want with Jack Canfield, America's #1 Success Coach
Watch the Free Webinar – 6 Steps to Achieve Any Goal and Create an Extraordinary Life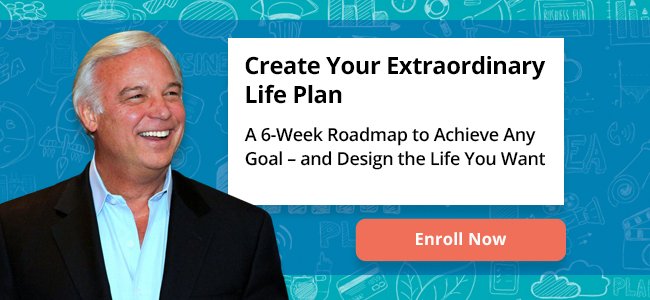 Feeling stuck in a particular area of your life? Check out this free webcast with Jack Canfield and Lewis Howes. For over 10 years, Jack has hosted his flagship live training, Breakthrough to Success, which has helped transform the lives of thousands of people.
Jack Canfield's Breakthrough To Success is the most comprehensive personal development training he offers and he wanted to create a way for people who could not attend the live event to still experience the magic and powerful transformations.
Breakthrough to Success Online is an all-inclusive home study version of his live five-day event in the form of a self-paced, 10-part training course designed to give you the tools you need to change your life.
Breakthrough to Success Online allows students to do an interactive deep dive into his most powerful success principles and experience a breakthrough in some (or many) areas of their lives where they may have previously been held back… all from the comfort of their own home and on their own timeline.
Watch The Success Formula Webcast Now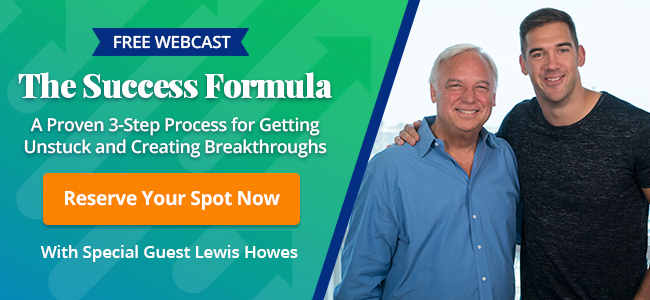 Learn the 7 Pillars of True Life Transformation with Jack Canfield, America's #1 Success Coach!
Overcome Obstacles – How to quickly remove the blocks, fears, and uncertainty in yourself and others (plus, how to make a handsome living while doing it)
How to Become a Transformational Trainer – How to be a more positive influence by teaching, training, and transforming people… even if you have no previous experience
The Canfield Training Methodology to use his proven system to speak to all dimensions of a person's being… earning you instant respect and love in the process
Watch the Free Webcast – How to Transform Your Life and Career

Bestselling Books By Jack Canfield
In The Aladdin Factor, you'll learn how to get everything you want. In this motivational book from the #1 New York Times bestselling authors of the Chicken Soup for the Soul series, you'll learn how to shed self-limiting thoughts and feel strong and deserving of the things you want.
The Aladdin Factor teaches you solid, proven techniques for blasting through roadblocks to discover how to ask and who to ask in different situations… at home, at work, in shops, on the telephone. You'll master "the technology of making an effective request," and get a tantalizing glimpse of how different life is when you start asking.
Jack Canfield's bestselling book, The Success Principles: How To Get From Where You Are To Where You Want To Be, has been hailed as the new self-improvement classic. Learn these golden principles and step-by-step action plans, which if followed with commitment would lead to both personal as well as professional success.
The Success Principles by Jack Canfield shares 64 simple, yet extraordinary principles to help you get from where you are to where you want to be, increase your confidence, tackle daily challenges, live with passion and purpose, and realize all your ambitions.
The Success Principles teaches us the necessity to change our perception and understand what we need in life. These are the secrets behind Jack Canfield's own success in life and have led him to write more than 50 bestselling books.
The Success Principles Workbook is the companion guide to the Success Principles book. It revisits the original book's core principles – including "Take 100% Responsibility for Your Life" and " Decide What You Want."
It then provides step-by-step instructions, self-discovery exercises, Make-It-a-Habit worksheets, and guided journaling to keep you on a path to success.
Jack Canfield's Key To Living the Law of Attraction is a simple, yet thought-provoking 'how to' guide for using the Law of Attraction to create the life you desire. It explains not only what you need to know but what you need to do in order to attract what you want in your life.
The Key To Living the Law of Attraction addresses important issues of clarity, purpose and action and will take you step-by-step through the processes of defining your dreams, goals and desires.
Train The Trainer by Jack Canfield
Through his program, Train The Trainer, Jack Canfield has taught millions of individuals his modernized formulas for success, and now certifies trainers to teach his content and methodology all over the world. In
Train the Trainer Online [TTTO] is a self-paced online training program that takes Jack Canfield's Success Principles to new heights by teaching trainers to empower and transform the lives of their students, employees, clients – groups of any type or size, in any training setting imaginable – using his proven, step-by-step, experiential teaching process.
Join Jack Canfield's Train the Trainer Online Program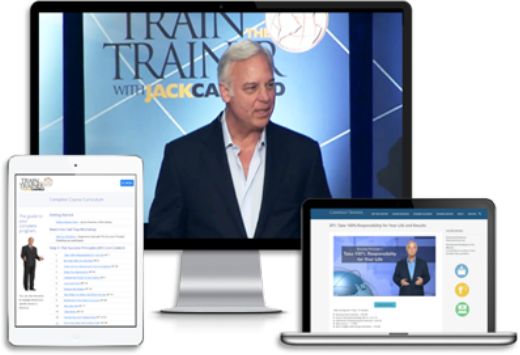 Train the Trainer Online is a self-paced, 13-part course with 42 hours of video instruction. Students begin the course experiencing Jack's Success Principles Workshop through a 3-hour video. At the end of the course, all students take a test to become a certified Jack Canfield Trainer.
Whether your audience is in the hundreds or thousands, in small group settings or even one-on-one – Train the Trainer Online will give you all the techniques, training, tools, resources and ability to transform lives like never before.
Join Jack Canfield's Train the Trainer Online Program
Image credit: Derek Smith