.
Learn Qigong for beginners exercises to build your immune system, rejuvenate your body, achieve radiant health through self-empowering, healing, mood-boosting practices with internationally renowned Qigong teachers, Daisy Lee and Roger Jahnke.
Discover the healing power of Zang-Fu Gong, an empowering form of Qigong, and embark on a journey of radiant health. Cleanse and rejuvenate your body, strengthen your immunity and reach your ideal body weight through Qigong.
The rhythms of modern life mean most of us to spend a LOT of time sitting — only rarely putting our bodies in motion, engaging our creative muscles, or caring for our emotional and spiritual wellbeing. And for many of us, life's general stressors are at an all-time high, which can lead to a sense of stagnation — not just within your body, but in your mind too.
If you're ready to release pent-up stress and transform it into healing Qi — to promote your body's health and wellbeing — I have a special invitation for you…
Celebrated Qigong teacher and author Daisy Lee will introduce you to Zang Fu Gong, a graceful, empowering form of Qigong, renowned for its cleansing and rejuvenating powers.
Reserve your complimentary space for Qigong to Cleanse Your Organs for Better Health & Energy Flow.
Click here to receive Two Zang Fu Gong Practices to bring healing energy to your liver & lungs.
For thousands of years, practitioners of Zang-Fu Gong have reported a variety of noticeable health benefits, including stronger immunity, less downtime during illnesses, more emotional stability, reaching and maintaining a healthy weight, improved circulation, more energy, greater intuition, and so much more…
During this one-hour special video event, you'll:
Participate in a guided body scan — starting with a series of questions from Daisy to help you tune in to YOUR body from head to toe
Let go of pent-up anger that may be building up in your liver with a specific Zang Fu Gong exercise designed to expel stagnant Qi out of your body and restore you to a calm and peaceful sate
Release grief and other painful emotions connected to your lungs as Daisy demonstrates another powerful Zang Fu Gong exercise
Identify the root emotional issues causing blocked energy in your body that can lead to the specific health problems you're facing
Zero in on the ways you're experiencing blocked energy as a result of the stressors all around you
Receive a calming practice to bring you into vertical alignment; you'll become better connected to your own body AND more grounded to the earth as you focus on a Starpoint in the sky
More than anything, you'll see how YOU can take responsibility for your own care and wellbeing… all with a gentle, effective practice that's easy to incorporate into your daily life.
In a world where so much is out of your control, making small but significant changes remains a powerful way to make meaningful and lasting transformations to your health and happiness — and Daisy will show you how to get started.
In Qigong to Cleanse Your Organs for Better Health & Energy Flow, you'll explore how Zang Fu Gong — an empowering form of Qigong — boosts energy levels, unlocks radiant health, and releases stress for a balanced and joyful life.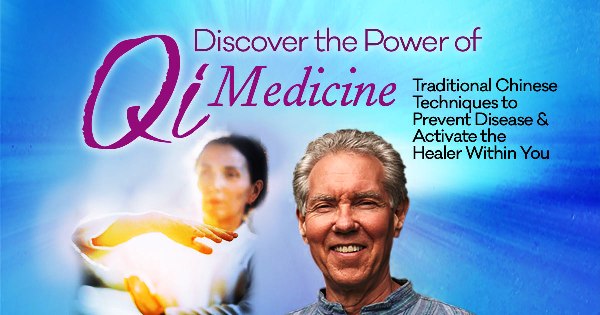 The power to prevent illness, enhance strength and vitality, and even promote inner peace, lies in discovering the secrets to cultivating what the Chinese call "Qi" through the ancient practice of Qigong.
Indeed, your inner healer is activated through Qi Medicine and the practice of Qigong, which is as relevant today as ever — and given the pace and stress of modern life, perhaps even more so!
Sign up for a complimentary hour of information and inspiration with Chinese medicine doctor and master Qigong and Tai Chi instructor Roger Jahnke in Discover the Power of Qi Medicine: Traditional Chinese Techniques to Prevent Disease & Activate the Healer Within You.
You'll discover self-empowering, healing, mood-boosting practices for your self-care regimen that complement Western-medicine approaches to your health.
In Discover the Power of Qi Medicine, Dr Roger Jahnke will share with you daily practices you can do yourself — or with a friend or group of friends — to open and align your various levels of energy and promote the optimal function of your body, mind, and spirit.
In this FREE video event, you'll discover:
Why the most profound medicine is produced in the human body
Easy-to-learn, easy-to-practice ancient techniques for activating inner healing
A 4-part Qigong breathing practice — the foundation for activating Qi Medicine within
How to neutralize stress, overcome sleeplessness, and maximize energy
Now is the perfect time to benefit from Dr Jahnke's wise and compassionate instruction so you can access your own deep well of healing energy and address the root causes of illness, enhance your vitality, and enjoy life to the fullest!